Page Types
Selecting the Default Layout
When you create a page, a layout template is applied. If there are two or more layout templates on a website, one of them is selected by default. Normally this is the same template whenever you create a page.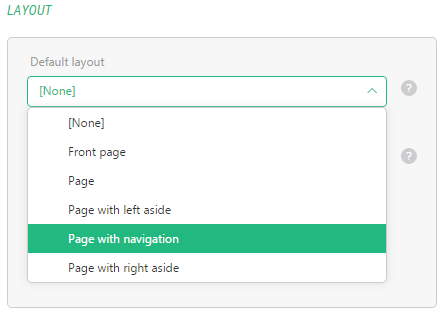 Figure 32: A layout template selected
However, if you change a template on one of the pages created or edited, all the child pages you will create under this page, will default to the newly selected one.
You can explicitly specify which of the available templates will be applied to a newly created page by default – via page types.
To select the default layout template:
Edit a page type.
On the Layout tab, in the Default layout selector, select a template you want to be default in the page type.
Make sure the template is not excluded from the list of layout templates.
Click Save.

Figure 33: The default template selected
No layout template is selected by default ("[NONE]").