Page Types
Limiting by Homepages or Subpages
Each website in C1 CMS has one homepage. All other pages are placed under the "homepage" and called "subpages".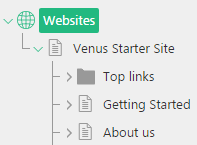 Figure 40: The homepage and two subpages
You can make some page types available for homepages only while other page types available for subpages only.
By default, each page type is available for both types of pages.
To limit page types to homepages or subpages only:
Edit a page type.
On the Availability tab, in the Homepage relation selector, select one of the following options:

No restrictions: The page type will be available to all pages
Only home pages: The page type will be only available to homepages
Only sub pages: The page type will be only available to subpages

Click Save.

Figure 41: Limiting the page type to homepages only
Important Notes
If a page is based on a page type which you later exclude from the list of page types available for pages, it will be used with a page until you switch to a different page type. Once changed, it will be removed from the Page Type selector in page settings.