Attaching elements
Overview
The goal of this tutorial is to explain how to attach elements to an existing tree, namely, in the Content perspective. This tutorial will show how to add your own elements and how to add elements representing data as well as add workflow actions and add actions that open a custom URL.
Tree
Here is how our tree will look like after we complete this tutorial: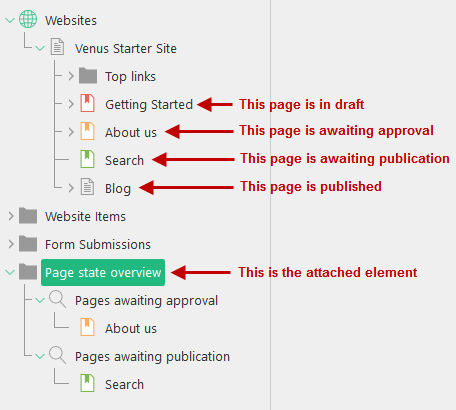 ABOUT C1 CMS IN SHORT
C1 CMS is a powerful Content Management System that scales out in the cloud. C1 CMS Foundation is one of the world's best-rated free Open Source CMSes. Built on the Microsoft stack and installed in more than 100 countries. C1 CMS is also seamlessly integrated in our Unified Commerce offering - Orckestra Commerce Cloud.

UPDATES ABOUT C1 CMS
Get a regular digest about the C1 CMS. Learn about releases, solutions, features with a dash of technology.