Installation ID
Locate the Installation ID of your C1 CMS
The installation ID uniquely identifies your installed copy of C1 CMS. It is a GUID (for example, 1034b718-1b0f-4911-9eec-5f062ca28368) assigned to your system when you install and run it for the first time.
You may need to know your installation ID, for example, when you purchase a commercial license or a commercial add-on.
To locate your installation ID:
Log in to the CMS Console.
On the main menu, click "Help" / "About C1 CMS".
Copy, or make a note of, a GUID in the "Installation ID" field.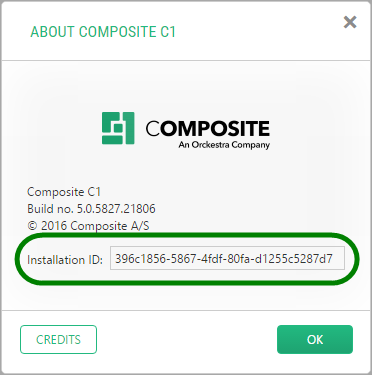 If you cannot log in to the CMS Console for some reason but have access to the website folder (for example, via an FTP connection):
Go to [root directory]/App_Data/Composite/Configuration/.
Open the file "InstallationInformation.xml".
Copy, or make a note of, a value of the " installationId" attribute.
<InstallationInformation installationId="1034b718-1b0f-4911-9eec-5f062ca28368" />